Wind Turbine system
300kW Wind Turbine system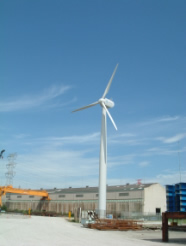 KWT300 is unique in its concept of easy transportation / installation and high resistance to wind turbulence. It is compactly designed so that none of the components require trailers for transportation to the sites. It also shows good performance in severe wind conditions; the turbulence intensity parameter(Iref) is set as 0.18 that is above IEC class I value of 0.16, and survival wind speed 70m/s. These features imply that KWT300 is applicable to the sites which are previously considered unsuitable for wind power plants.
In Japan, flat land areas are limited and potential for wind power generation is embedded in mountainous area with poor access and relatively high wind turbulence. KWT300 is adoptable to these conditions, thus will contribute to the wind power market in Japan.
It could be also applied to the countries with similar geographical and weather conditions to Japan.
Download Brochure here
Brochure is a FREE download (in pdf format).

To be able to see the information document You need to have ADOBE READER from ADOBE System Incorporated to read this document.
If you do not have the software, please click the button below and download it.
For more information
Please contact renew@komaihaltec.co.jp